Fine tune your cycling skills for free
Pick up tips on cycling safely and with confidence. There are four types of sessions available to suit your needs; basic, urban, advanced and family sessions. Book a session
here
!
Find your ideal route
Planning your cycle route is now even easier with
TfL's Journey Planner
. New improvements include Google street views along each turn of your route, identification of steep hills and details of cycle parking at Tube and rail stations.
Alternatively, order your free
Cycle Guide
. Routes in the printed guides have been recommended by experienced cyclists and will help you navigate the streets of London.
London will soon have even more direct, high-capacity, joined-up cycle routes. There will be new and upgraded
Cycle Superhighways
and a network of
Quietways
for those new to cycling or cyclists looking for a more relaxed journey. Enfield, Kingston and Waltham Forest will be transformed into
Mini-Hollands
to encourage people to cycle.
Hop on, hop off with Santander Cycles
Santander Cycles
is London's self-service, bike-sharing scheme for short journeys.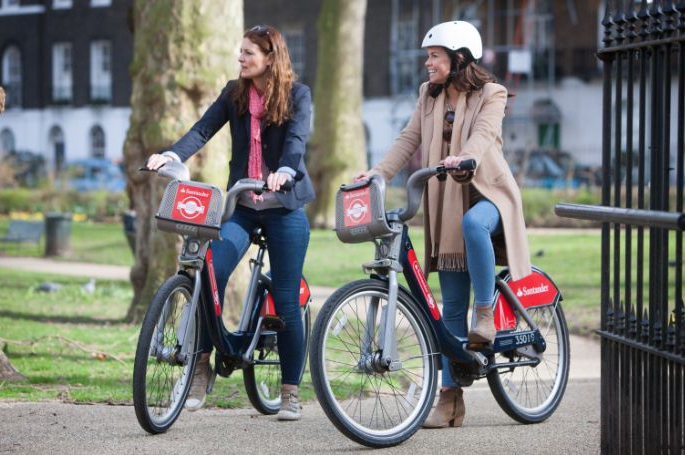 There's no need to book - hire a bike, ride it where you like, then return it to any docking station.
In London, there are more than 12,000 bikes at over 750 docking stations situated every 300 to 500 metres.
Getting started is easy. Just go to any docking station with your bank card and touch the screen to begin or download the free Santander Cycles app. Costs start from £2 for 24-hour bike access which includes unlimited journeys of up to 30 minutes.
Join a guided or group ride - or set up your own!
Whether you're looking to get fit, spend time with the family, discover new routes or just enjoy the outdoors, British Cycling has rides to suit everyone.
Meet cyclists in your area and join a
free guided ride
with British Cycling. Join Ride Social, a Sky Ride Local or the women-only Breeze network.
Commute in the Capital with confidence
British Cycling and TfL want to help those already commuting and encourage more people to do so by offering a package of British Cycling membership benefits that make it easier and cheaper for cyclists living in London.
Londoners joining British Cycling
will receive the following benefits:
• Free access for up to 24 hours with Santander Cycles
• 10% off at Cycle Republic and free bronze servicing
• 15 months British Cycling membership for the price of 12
• Free advanced cycle skills session funded by Transport for London
• Additional 10% off bike insurance for cyclists in London
Visit
www.britishcycling.org.uk/londonmembership
for more information.
Cycling Workplaces
Find out more about free cycle parking, cycle safety checks, bike security marking and cycle skills taster days
for your workplace
.
Exchanging Places Events
TfL work in partnership with the City of London Police and Metropolitan Police, where you have the opportunity to sit in the driver's seat of a HGV or bus and learn about blind spots, to get a better understanding of what the driver can see.
Find out more here
about events in London.
Time to Cycle events
To find out more about cycling in London and talk to TfL about Cycle Skills, how to hire a Santander Cycle and take part in fun games and quizzes visit the Time to Cycle stand on Sunday 13 September at the final stage.
Follow the links below for more information on:
•
Tips on staying safe
•
Keeping your bike secure
•
Looking after your bike
All this information and more can be found on the Transport for London cycling website:
tfl.gov.uk/cycling
Happy cycling!